How to Christmas in Marion Part II: Holiday Fun
November 28, 2018
In a previous blog, we came to the startling realization that not only is it already November, it's practically December! We're going to have to light a fire in the hearth and under our tails to accomplish all that the season demands.
However, you needn't fret much because How to Christmas in Marion outlines all the typical holiday chores and how to get them done easily in Marion. As you complete the list, don't forget to actually enjoy it all! This season isn't about drudgery; it's about…
It may not be real ice, but it certainly is real fun. Palatine Park hosts a free iceless ice skating rink with free skate rentals every year. Don't miss the magic!
As opposed to the ice skating rink, these are real lights. The Celebration of Lights is a lovely luminescent mile of holiday cheer and Christmas spirit. So many options of how to see this traditional celebration! Walk through, drive through, run through or play through.
The Reindeer Run is a 5k race to see who the fastest cheermeister is! Run through the lighted scenes of Santa flying in his sleigh; elves making toys, and families ice skating.
Try your hand at the Holiday Glow Bowl. This disc golf tournament takes place on the course of Morris Park, which just so happens to be throughout the Celebration of Lights!
And the best part? All the proceeds from driving, walking, running and playing go to the United Way of Marion County!
Food is terribly important to an Italian and Appalachian community. So enjoy the traditional foods of our great-grandparents at Festival Cucina, where you'll learn how to make it all. Continue the Italian Christmas Spirit the next day at the Feast of the Seven Fishes Festival! Live music, honey wine, frittis and plenty of fish await you! Be sure to stop by Arts & Antiques Marketplace and visit the Coal Miner's Appreciation Day & Swap Meet. After all, if it weren't for these hard working miners, the pepperoni roll might not be part of our culture today. 
Friends, family, community – all good stuff. Sometimes the holidays might get a little stressful. And for that, I've put together a little list of how to survive it all.
Take a holiday respite:
Float in a magnesium filled salt pod and allow the tension to release from every muscle on your body at

SpaOasis

. Plus, you can get a Himalayan salt lamp here, too. It could be like a focal point for you to use to relax amidst the aunts, uncles, cousins and tiny tots everywhere.

Main Street Yoga is always a calm, serene, tranquil space – you know, exactly the opposite of homes during the holidays. Find some rest from the relatives and ruckus here.

Tuscan Sun Spa

is a great place to de-stress under the guise of finishing up some

last minute Christmas shopping

. Get a body wrap, a facial, a pedicure – anything to escape and/or prepare yourself for more social events!

Sneak away from the crowds and take a couple of deep breaths and big swigs at

The Rambling Root

or

Short Story Brewing

. Dessert couldn't hurt, either.  

Or bring something back for all age-appropriate family members to relax.

Mountain Dragon Mazery's

honey wine is a local treat that will take the conversation from nonexistent grandchildren and impending weddings to those good ol' country roads.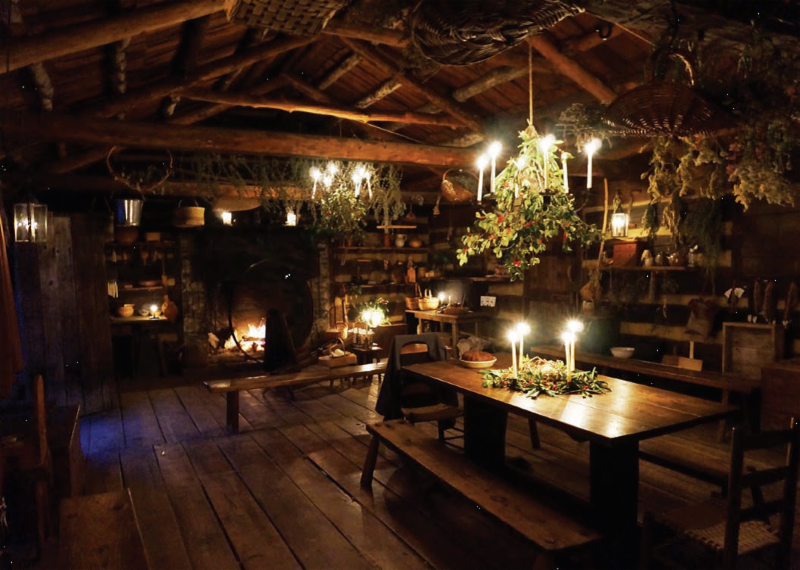 Christmas in Our Town is the Barrackville community Christmas celebration! It's about spreading Christmas cheer for all to see. Lights, crafts, food, a parade, and entertainment.
Pricketts Fort is a Christmas destination! How could a beautiful and historic fort be any more incredible to see? When it's decked with boughs of holly and fa-lalala! Enjoy this beautiful fort at Christmastime!
Tea with a Twist is another chance to explore a historic home in Marion, plus you get tea and – can you guess what the twist is? It's cookies!
Don't forget about next year. January counts as part of the holiday season, so start the new year right! How?
The Sagebrush Round-Up knows how to ring in the new year right with country food and fun. Don't miss a new year on the mountaintop!
Even after New Year's, the celebration won't stop anytime soon. Dress up for a Great Gatsby Party at The Rambling Root! Good food, good beer, good tunes and Gatsby costumes – need I day more?
Which holiday traditions do you celebrate? 
Tags: 5k race, barrackville, Celebration of Lights, Christmas, disc golf, Fairmont, Shopping, STS Top 20 event, wv