Marion County how does your garden grow?
June 28, 2016
From the rolling hills to the tall trees of the Appalachian landscape, West Virginia has always had green growth to see.
For those with a green thumb, Marion County provides a perfect spot to begin growing a garden, meeting other enthusiasts or just admiring the view of our Marion County gardens.
Check out these special spots for garden enthusiasts in Marion County!
Feast Your Eyes
If you love seeing summer in bloom but wouldn't know how to raise a plant or two, these observation destinations are for you!
Pricketts Fort State Park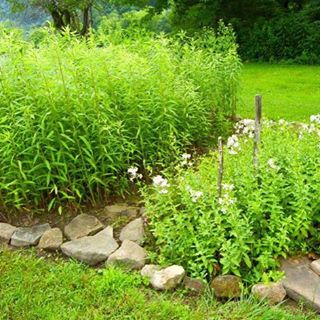 Take a trip out to Pricketts Fort State Park and see how the original  gardeners grew their crops.
Mother Nature can show you all her secret blooms on a Nature Walk through the park while you listen to the birds chirp and trees rustle with a summer breeze.
Then, see how the early settlers used plants for more than food! The 18th Century Field Gardens have plants used for cooking, such as pumpkins, squatch and corn. They also include medicinal plants and those used for dying and clothing.
You'll learn about the Iroquois legend of the Three Sisters, and why you should plant your corn, bean and squash during the same season for good growth and healthy soil!
The Marion County Master Gardeners also have a plant sale in the spring to help raise money for all the gardens at the fort they maintain.
You'll learn how gardens have grown for centuries and some homespun plant remedies at this leisurely adventure!
Frank and Jane Gabor Folklife Center Gardens
Fairmont State University's Folklife Center has gardens growing and waiting for guests.
Stop by the magical Master Gardeners Fairy Garden for a visit with the little people, then explore the beautiful Elizabeth Cann Stopiak Living Garden.
The John M. Teahan Memorial Celtic Garden will bring you back to the old country of the Scots-Irish immigrants who settled these lands, so listen closely for the sounds of bagpipes playing as you stroll through.
See the Janice Watts Living Garden outside of the Turley Center to honor the creator of Fairmont's city flag and a former professor at Fairmont State.
Don't forget about seeing the rest of Fairmont State's campus before you go!
With trees and flowers covering the campus, this university knows how to landscape for the garden-loving soul!
Marion County Visitor Center
For more pretty plants, stop by the Marion County Visitor Center and see the roses in bloom!
The flowers outside are a sweet treat before heading inside to catch a cup of coffee and all the latest spaces for green adventures in Marion County.
Heston Farm
Then, for dinner, wine and dine your time at Heston Farm!.
The courtyard is full of fragrant blooms that will make your dining experience fragrant with the smells of food and flowers.
Get Down and Dirty
For those who want to test their gardening skills in a group setting, Marion County's gardening support programs are just plain rosy!
Fairmont Community Garden
Need a space to plant dinner for your whole family? Want to teach your kids where food comes from? The Community Garden has a plot for that!
Located on Oliver Ave., this community spot has gone through a lot of change in the last year. Now parented by Learning Options, Inc., the garden is growing again and needs volunteers!
Check out the garden's website to see how you can get involved with either your own rented bed or donation beds to give back to the community.
Whatever you decide, you won't be alone with the community volunteers you'll be working beside!
Marion County Master Gardeners
Preparing to take your gardening expertise to the next level? Check out the Master Gardeners for how to being a genuine gardening guru!
As part of the WVU Extension services, this green group serves the local community with educational support for those trying their wings in the gardening world.
If you want knowledge and scientific know-how from a group that knows, consider taking the ten week Master Gardeners Course. After this and 40 hours of volunteering, you'll be certified to talk green with anyone you meet!
Want to know more? Be a guest at a monthly meeting and see how you can get involved with a support group like the Master Gardeners.
Supply and Try
With observation inspiration and knowledge from Marion County gardening experts, you may be ready to begin your own gardening adventure. Check out these supply stores for every season!
Mon River Garden Center
Ready to dig up that backyard and get to work on your own family
garden?
Mon River Garden Center has supplies for all your gardening and landscaping needs!
Whether you want to carve out a wilderness of mulch and trees or glory in a Greek paradise of statues, fountains and flowers, you can find a variety of options for the amatuer to the expert.
Don't forget about the critters—welcome and unwelcome! Grab bird seed, fencing, pest prevention sprays and any other supplies you may need to keep your new garden from becoming an animal buffet!
Fairmont Garden Center
Want to liven up your living space but don't have the room for a vegetable garden out back?
Fairmont Garden Center has a wide variety of hanging baskets and succulents perfect for sweet success with small spaces.
This roadside attraction also has seasonal treats, including pumpkins in the fall and spruces in the winter. For spring time Mother's Day treats, let Mom pick a pocket of perennials or other flower favorites for the yard or porch.
Mt. Zion Nursery
Take a trip to the good old days at Mt. Zion Nursery when the whole
family goes to pick out the Christmas tree!
This Christmas tree farm has nostalgia to share! First opened in the 1940s, generations of folks have picked, cut and drug their way home to a lit tree by the fire, ready for holiday cheer!
Make sure to mark your calendars for this gardening getaway! At Christmas time, complimentary cookies, hot cocoa, candy and more are side dishes to your new family tradition.
Through the rest of the year, come here for mulch, flowers, plants and design needs for any of your landscaping feats!
Taste a (Local) Treat
If you are content to let the experts grow, you can still reap the healthy benefits of locally grown fresh food!
Farmers Markets
Mark your calendars for market days as the ever-expanding farmers market rolls around each week.
Every Tuesday, head downtown to Veteran's Square and think about the dishes you will make with the fresh produce you find there! From strawberries to herbs to breads and cheese, your mouth will water as you buy these tasty treats!
On Thursdays, shop again at the new I-79 Technology Park location, and then on Saturdays head out to Fairview for another chance to find a scrumptious meal grown right here in Marion County!
Annual Tomato Tasting Festival
If you have mastered the art of gardening in Marion County this summer and are ready to show the world your success, get ready for the annual Tomato Tasting Festival!

Held at Highgate Carriage from 12-4pm on August 21st, this food favorite festival is not for the faint of heart!

Local farmers will offer up their prized tomatoes to the judges, while

music, vendors and artisans entertain during the tasting decisions.

No matter how you decide to go green this summer in Marion County, make a move with our gardens to celebrate the wonderful and wild side of our state!

Tags: hestonfarm, Marion County, marioncounty, marioncountywv, Shopping, summer, West Virginia