Holiday Remix
Enjoying some of Marion's favorite holiday events COVID style
November 17, 2020
"It was the best of times; it was the worst of times, it was the age of wisdom, it was the age of foolishness, it was the epoch of belief, it was the epoch of incredulity, it was the season of light, it was the season of darkness, it was the spring of hope, it was the winter of despair."
 Charles Dickens' words pretty much sum up 2020!
There have been so many changes and adjustments to our lives these past eight months, and like most events, the Feast of the Seven Fishes Festival will also look a bit different this year. However, Main Street Fairmont is determined to keep the tradition alive, hosting a virtual cooking school and drive-thru festival.
How Does it Work?
Beginning Friday, November 14, and continuing through Friday, December 4, you can pre-order some of the Italian delights you've enjoyed on Monroe street for the last 14 years online. Place your order here or get information on how you can become a vendor here. 
Below is a list of just some of the vendors providing Italian non-perishable and frozen items (vendors will prepare foods per standards set forth by the Marion County Health Department): 
Valley Distributing
Ray's Seasonings
This and That Bakery
Nonnie's (featuring recipes of Rosemary Tennant)
Highland Ave. Methodist Church
A La Carte Fine Chocolates
MonValley Vineyards
Mountain Dragon Mazery – Fine Honey Wines
Rather make your order in person? Visit their pop-up store at 222 Adams Street every Friday and Saturday from November 14 to December 4, from 10 a.m. to 2 p.m.
Orders will be available for pick up on Friday, December 11, and Saturday, December 12 at Monroe Street's old fire station. (Times to be announced)
Festival Cucina
No Feast of the Seven Fishes Festival is complete without the annual cooking school. But what do you do when you can't host a live cooking school? Create a virtual cooking school that everyone can enjoy from the comfort of their armchair.
Join Bob and Shannon Tinnell for the Festival Cucina Friday, December 11 at 7:30 p.m. on WDTV Channel 5.
In the meantime, you can watch the Feast of the Seven Fishes Festival Christmas Special that aired in 2015 here.
Bon Natale!
More holiday events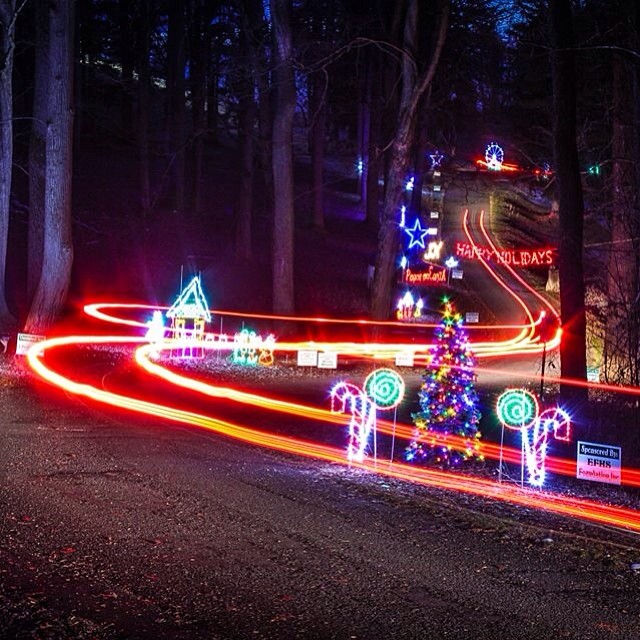 Looking for even more holiday cheer? Check out Pricketts Fort's Candlelight Christmas Tour or their 18th-Century Christmas Tour. See how our ancestors celebrated this holy time of year as our interpretive staff takes you through many aspects of a historical colonial Christmas celebration. 
Take your holiday to the next level when you drive through the Celebration of Lights. This STS Top 20 Event has nearly 500 light displays depicting scenes of winter wonderlands, the North Pole, and more. But why stop there? Be sure to check out the Holiday Glow Bowl for a fun spin on the holidays (Get it? Spin. Disc Golf.) Anyway, you can register here for the December 8th tournament.  And break out the warm outerwear for a chance to walk the 1.3-mile loop of Morris Park to enjoy the lights up close. 
Get cozy and gather the family and join the Oliverio family as they prepare for the traditional Feast of the Seven Fishes. The Feast of the Seven Fishes is a romantic comedy set in a rust belt town on the banks of the Monongahela River during the early days of the MTV phenomenon. When a nice, working-class, Italian-American Catholic boy brings an affluent, Ivy League, Protestant girl to his family's raucous traditional seafood feast on Christmas Eve, 1983, sparks fly. The movie is based on Robert (Bob) Tinnell's 2005 graphic novel of the same name.
The movie is available for streaming online or you can find copies of the CD, Feast of the Seven Fishes Movie at Arts & Antiques Marketplace as well as copies of Bob's graphic novel, Feast of the Seven Fishes. 
And the West Augusta Historical Society can help you deck those halls with fresh pine arrangements and wreaths found at their annual Greenary Bazaar December 11 – 12. Call 304.986.2647 or 304.986.1981 to pre-order specialty items.
Even though some of our favorite traditions will be re-imagined this year, there are still plenty of ways to celebrate the season in the Middle of Everywhere.
How will your holiday be different this year?
  

Tags: Christmas, Christmas Eve, Fairmont, feast of the seven fishes, Italian traditions, Rivesville, wv