Pioneers to Pepperoni Rolls: 200 Years of History in the Middle of Everywhere
November 9, 2020
No matter where your interests lie, Marion County has historical locations, each with a wealth of information. Travel through 200 years of Marion County history — from the former grounds of 18-century settlers to the birth of the beloved pepperoni roll. Get started on your journey through time!
Genealogy
The best place to start your trip is at the Marion County Public Library in downtown Fairmont. At the library, explore the Genealogy Room — the ultimate treasure trove of ancestry information! The Marion County Genealogical Department collects family histories, census records, cemetery records, publications, county histories, and more from the local area, West Virginia, and surrounding states. The Genealogy Room does not have the same hours as the library so call ahead to check the hours or schedule an appointment.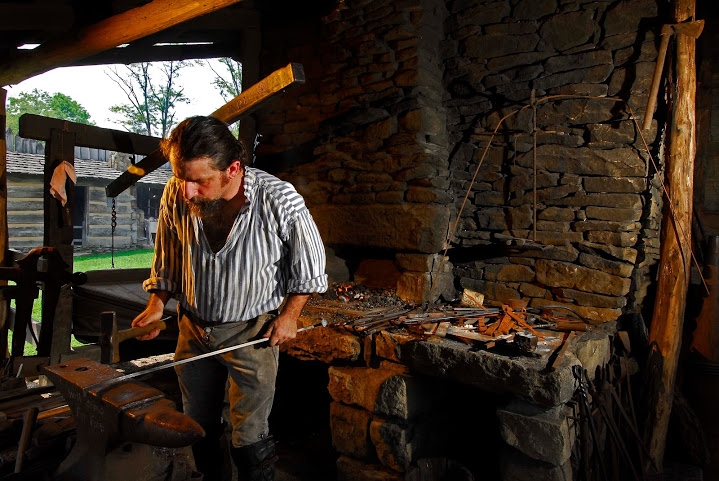 Pioneer Life
Go back in time at Pricketts Fort State Park. This living history site features a recreation of an 18th-century refuge fort with costumed interpreters demonstrating colonial crafts. Take a tour (guided and self-guided audio available) of the grounds and visit the Job Prickett House, an original 1859 farmhouse with many preserved items on display.
Coal Mining
Monongah Mine Disaster Memorial
Like all of West Virginia, Marion County has a deep connection to coal. Visit the town of Monongah, where memorials recognize the 361 lives lost in the 1907 Monongah Mine Disaster. Learn about our significant contributions to the industry with the beautiful monuments dedicated to the 361 miners killed in the disaster.
Railroad
In addition to coal mining, the railroad also played an essential role in Marion County's history and economic development. Many old train tracks have been repurposed as rail-trails throughout the county for public recreational use. Stretch your legs on the West Fork River Trail, a 14-mile rail-trail that meanders along the West Fork River between Fairmont and Shinnston.
Civil War
One of the stops along Marion County's Civil War Trail, Woodlawn Cemetery, has over 11,000 graves, including prominent local and state figures. Francis H. Pierpont, the "Father of West Virginia," and his wife, Julia Pierpont, are buried here as well as Fairmont founder Boaz Fleming and veterans of eight wars.
Italian Heritage
What's a trip to Marion County without a taste of the original pepperoni roll? Make a stop at Country Club Bakery in Fairmont for the culinary delicacy. Giuseppe "Joseph" Argiro, founder of Country Club Bakery and credited as the pepperoni roll creator, opened the bakery in 1927.
Order your copy of our Marion County History Guide by calling 304.368.1123 for other interesting stops and plan your trip online at https://marioncvb.com/our-history/.
Which time in West Virginia history do you find most fascinating? 
Tags: Civil War, coal, coal mine, Francis H. Pierpont, Genealogy, Pricketts Fort, rail trail, wv, WV history