Independence Day – Marion County Style
June 26, 2023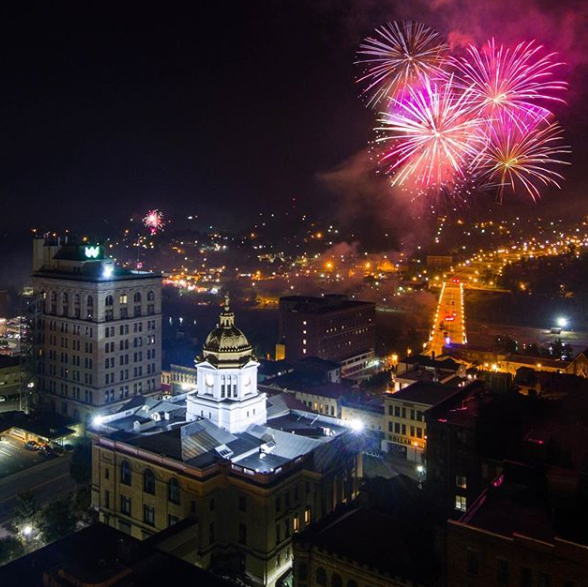 Marion County has a long tradition of celebrating our nation's independence in a big way. Check out some of the ways we will be celebrating.
Weird Science and Liquid A will help Marion get an early start on Independence Day celebrations during Saturday's concert at Palatine Park.
Weird Science is a high-energy 80's rock band, and Liquid A's extensive songbook consists of stunning renditions of famous tracks, spanning genres as diverse as rock, pop, funk, dance, alternative, hip-hop, and more. The music begins at 6 pm with fireworks at 10 pm.
Sagebrush Round-Up – July 1
Direct from Nashville, The Malpass Brothers will be playing at Sagebrush Round-Up. Weather permitting the concert will be outdoors. The music starts at 7 pm with The Malpass Brothers taking the state at 8 pm. Fireworks start at 10 pm. Cost for this special event is $40.

Rivesville – July 2

Celebrate our nation's independence during Rivesville's Riverfront Festival on Sunday, starting at 5 pm. The evening features food and ice cream trucks, crafts, vendors, kids' games, face painting, and a rock climbing wall. Music begins at 5:30, and fireworks start at 10 pm.

Bring a chair and please come out and enjoy the festivities.

Celebrate the Fourth of July in Fairview on Tuesday with the theme of "Justice for All."
Festivities include the Ray Hedrick 5K Fun Run, grand parade, a patriotic speaking program with guest speaker Rod Myers, games and contests for all ages, a show by magician Steve Haberman, musical performances from the Fairmont State University Academy for the Arts, The Firelight Reckoning, the Fridley Boys, and Jessica Schoonover and Rick Tincher with the Birch River Band and fireworks!

Local organizations will sell concessions throughout the day. All activities, excluding concessions, are free of charge! There will be a craft show at Potter's House Art Center from 9 am – 3 pm, a volunteer fire department water battle, a corn hole tournament at the fire department, and a hot dog eating contest at Hometown Hot Dogs at 1 pm.

For more information on this hometown celebration, visit their website, Facebook, or call 304.216.9868.

Schedule:
7:45 am – Registration for Ray Hedrick 5K Fun Run
8:30 am – Ray Hedrick 5K Fun Run
10:00 am – Grand Parade
11:30 am – Fairview Community Band concert
12:30 pm – Ashley Cortellini
1:00 pm – Guest Speaker: Rod Myers, Retired Federal Prison Administrator and Author
2:00 pm – FSU Academy for the Arts students
3:00 – 4:45 pm – Cake Walk, Games, and Contests for All Ages
5:00 pm – Magician: Steve Haberman
5:45 pm – Balloon Animals by Steve Haberman (off to the side of the stage)
6:00 – 7:00 pm – The Firelight Reckoning
7:00 – 8:00 pm – Fridley Boys
8:00 – 10:00 pm – Jessica Schoonover & Rick Tincher with the Birch River Band
10:00 pm – Fireworks

Come out and hear the reading of one of the greatest documents ever written, second only to the United States Constitution.  Half price admission for all US Veterans and active military.

Drafted by 33 year old Thomas Jefferson between June 11 and June 28, 1776, the Declaration of Independence is the nation's most cherished symbol of liberty. It was adopted by the Continental Congress on July 4, 1776, and announced that the 13 American colonies, then at war with Great Britain, regarded themselves as independent states and no longer a part of the British Empire. Instead, they formed a union that would become a new nation – the United States of America.

Fireworks start at dusk.

The celebration continues with White Hall's 3rd Annual Community Music Event. Event features six bands at the Middletown Commons from noon to 10 pm.

Line-up includes:

·         Becky Sanders singing the National Anthem – noon
·         New Diesel Trio – 12 – 1
·         System Buckers- 1:30 – 2:30
·         Top Shelf- 3 – 4
·         Empty – 4:30 – 5:30
·         Marshall Lowery – 6 – 7:30
·         The Davisson Brothers Band – 8 – 10

The Cornhole Tournament starts at 1:00 in the breezeway at the Commons. Sign-ups start at 12 pm , the day of the event, and the fee is $30.00 per team. First, Second and Third place winners will receive a medal and cash prizes

Tags: 4th of July, family friendly, fireworks, Independence Day, July 4th, live music